Case Study: Jushin AVT Experience Center, South Korea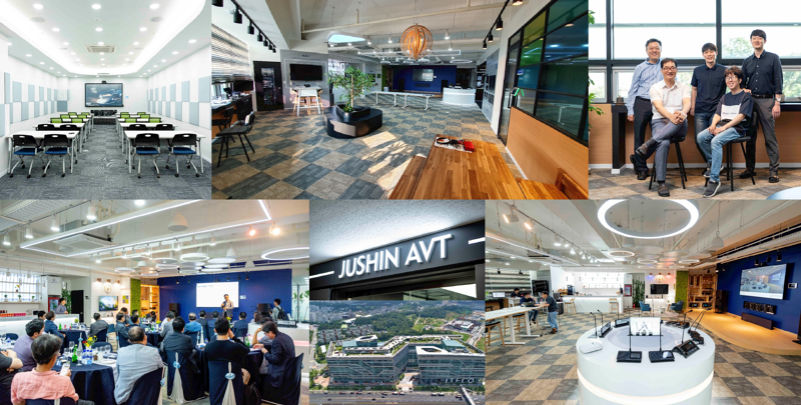 JUSHIN AVT EXPERIENCE CENTER IN SOUTH KOREA.
In a digital exclusive, Hurrairah bin Sohail speaks with Jushin AVT about its decision to establish an experience centre, the motivations behind the investment and the reception from the Korean AV market.
The AV industry is evolving with regards to how it engages with clients. Rather than 'telling' end users about how technology works, we are seeing a shift towards 'showing' them how AV systems can impact their spaces. This is resulting in an increasing investment in experience centres.
Jushin AVT, a Korean integrator, has recently established a 3,600 square foot facility designed for customers, dealers, designers, and architects.
Jesse Chung, director of business development at Jushin AVT, says: "The whole Experience Center has been implemented by Jushin and it is also being operated by Jushin. We purchased the products from Crestron and from other manufacturers as well, such as Shure, and the Experience Center has not been sponsored by any manufacturer. This is an initiative that Jushin has taken on its own."
The investment in establishing the facility on the part of the integrator is significant and Chung explains why Jushin AVT embarked down this route: "Jushin has been extremely successful as an integrator in the traditional audio video industry. Our major business activity is to implement large conference rooms, such as executive rooms or boardrooms, for large enterprises. But, taking these accumulated capabilities and experience, we would like to expand our work and offering to encompass entire workplace transformation including small rooms or what we call huddle spaces now."
Jushin AVT's Experience Center features a large open space, a 15-seat boardroom, three huddle rooms, a 30-seat training room and multiple open showcases. Chung says: "We wanted to provide guests an up-close and personal behind-the-scenes look at the innovative modern workplace with the cutting-edge audio visual and collaboration technologies available. All the spaces in the Experience Center, including the boardroom, training room, huddle room, and townhall meeting room, provide visitors with insights about where future workplaces are heading and how they must be designed."
The large open space at the Jushin AVT's Experience Center features three Shure MXA910 microphones, nine Crestron ceiling speakers and a 98-in Samsung flat panel display with Crestron AirBoard.
The 15-seat boardroom is equipped with a Shure MXA910 microphone for audio pickup, a 98-in Samsung flat panel display, a Cisco camera for video capture and video transmission via Crestron NVX encoders and decoders. The 30-seat training room follows a similar template.
Huddle rooms are used to demonstrate the functionality of Crestron Flex which can be connected with other Teams or Zoom equipped rooms. They also supports presentation through Wi-Fi.
Crestron systems are used to control the video source, audio volume, microphone modes, drapes and lights from Crestron touch panels.
As an integrator, Jushin AVT is capable of delivering AV systems comprising a range of products from any manufacturer. But for its Experience Center, Jushin AVT chose AV devices with careful consideration.
Chung says: "The three Shure MXA910 microphones act in three modes, presentation mode, discussion mode, and video conference mode. Shure microphones are leading the market with the greatest and latest technology which is why we chose them."
Regarding the extensive Crestron deployment, Chung adds: "Crestron is approaching the customers with a platform, an ecosystem, and it is not just focusing on individual products. It deals with the entire range of products from soundbars to touch panels to wireless presentation and even speakers. We have a good relationship with Crestron and it was a natural fit for us to use their products for our experience centre because Crestron can do everything."
More specifically, Crestron NVX and AirMedia have been selected to address market trends and educate end users. Chung details: "AV over IP is in the initial stages of market exposure in Korea, people are not even aware of such products, but they are familiar with traditional matrix products. The network aspect of AV over IP is something that is new for the Korean market. This is where the Experience Center comes in because we have decided to showcase NVX video transmission and visitors can see for themselves the benefits of AV over IP and find out about the latest technology trends."
He continues: "Barco Clickshare is the number one wireless collaboration product in the Korean market, but we believe there is potential for the Crestron Air Media. Users find it much easier to access the wireless presentation system through the Wi-Fi network rather than using a dongle or cables or a USB transmitter. In large enterprises, we are seeing USB ports being blocked and not even be allowed to read data due to security concerns. This means that there is an opportunity to grow market share."
The reception from the Korean AV market has been positive. Chung says: "We have had dozens of groups of potential customers come in since we opened this centre and all of them showed deep surprise for our workplace experience centre because they have never seen such a place in Korea. Some of them might have experience similar spaces in other countries. Once the initial feeling of 'this is awesome' goes away, they can simulate what the technology can do for them and how they can better operate their own spaces."