TECHNOLOGY CENTER DELIVERS IMMERSIVE EXPERIENCE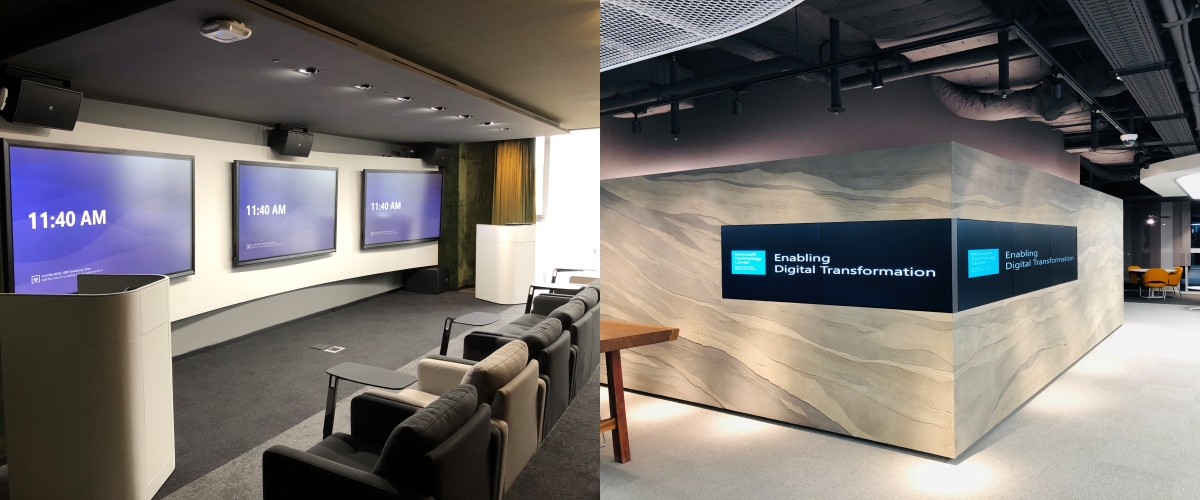 MICROSOFT KOREA CREATES MICROSOFT TECHNOLOGY CENTER

In May 2019, Microsoft Korea opened the Microsoft Technology Center (MTC) in Seoul, South Korea. The MTC was created to let enterprise and government customers experience the latest innovative technologies, including immersive experiences with cloud and artificial intelligence.

Before the doors of the MTC could open, however, Microsoft Korea had to install equipment to help display this technology – and that included complicated audiovisual projects. In addition to outfitting the MTC, Microsoft Korea required all their meeting and collaboration spaces to be renovated to enable fully automated features.

INNOVATIVE TECHNOLOGY REQUIRES INNOVATIVE SUPPORT

Microsoft Korea needed an audiovisual integrator that understood their unique needs and could offer support for the multitudes of items they required, including Chief, Vaddio, Middle Atlantic, Shure, and Kramer equipment. The MTC and collaboration spaces needed to flawlessly deliver a user experience second to none for Microsoft Korea's customers. They understood not just any integrator would qualify and began their search for the right AV partner.

Also located in Seoul, PSNI Global Alliance integrator Jushin AVT was more than qualified, having over 22 years of experience completing hundreds of audiovisual projects of various sizes across many organizations, including financial, government, enterprise, and educational. This vast knowledge was exactly what Microsoft Korea required, and Jushin AVT went to work.

SEEING SOLUTIONS IN ACTION

Jushin AVT installed audiovisual control systems for lights, curtains, cameras, projectors, and wireless presentation systems. They also fitted a 5.1ch surround audio system, a scheduling and monitoring system, and a video wall layout.

Microsoft Korea's collaboration spaces are now fully automated, and the MTC has become a noted space to experience modern, constantly changing technology. Working with Jushin AVT allowed Microsoft Korea to rest easy when they opened the MTC doors – they knew their customers would be given the best experience possible.